My Story
Eric Garner from Redeemed on Vimeo.
Ten years. That's how long I lived in complete opposition to the word of God. I was a homosexual and everyone who knew me knew I didn't hide it. In January 1990, I asked Jesus into my heart to be my Lord and Savior. Now I was gay and a professed Christian. I tried to be the best gay Christian I knew how. It didn't work. I had no peace.
The power of the Holy Spirit took away my peace. I was in agony. My life was not compatible with the word of God and I couldn't live like that anymore. I knew I had to leave my  life as I knew it. But I didn't know how. I couldn't. I wasn't strong enough. I wasn't capable. But …….I was willing. The Lord took that willingness and carried me through my sin to forgiveness and redemption. It wasn't easy but then again He never promised it would be.
Being gay was all I knew how to be……….or so I thought. Scared and confused, one night I prayed, "God, I don't know how not to be gay, but I do know how to be a Christian. I know how to read the bible. I know how to understand it. I know how to believe what it says. And I know how to do what it says. I'm going to start focusing on being a Christian, rather than not being gay." I prayed for help, wisdom and courage.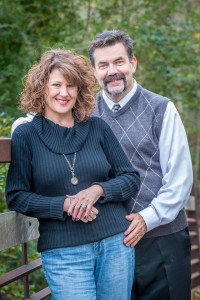 He answered that prayer mightly. The Lord provided for all my needs. He knew what I needed before I knew what I needed. He gave me a place to live so I could end the relationship I was in. He provided me with people in my life to talk to, pray with, encourage and love me. He educated me through conferences and seminars about how to walk away from the gay life and make a new life in Christ.
As I got into the word of God, I learned about this new life. A life in Christ. He set me free from a life apart from Him to a new life in Him. The Lord began to change my thoughts, my desires, my heart. This new life was just waiting for me. But first I had to surrender my old sinful life. As my old life began to fade away, a new one came slowly into view. A life so wonderful I could never have imagined it on my own. The Lord saw fit to bless me with a wonderful wife, Kelly, and a son, Andrew. These are gifts I couldn't have without my willingness to change, my willingness to surrender.
If we could only see around the corner, around the bend, to the road that He has for us, we would see He has plans for prosperity and hope.
If you are struggling with homosexuality, know change is possible with God as your deliverer, counselor and Lord. Please listen to my full testimony. Read the information on my website. He'll do whatever it takes. His love runs farther than you can run away.
If you would like to contact me, email me at eric@ericgarner.org
Yours in Christ,
Eric